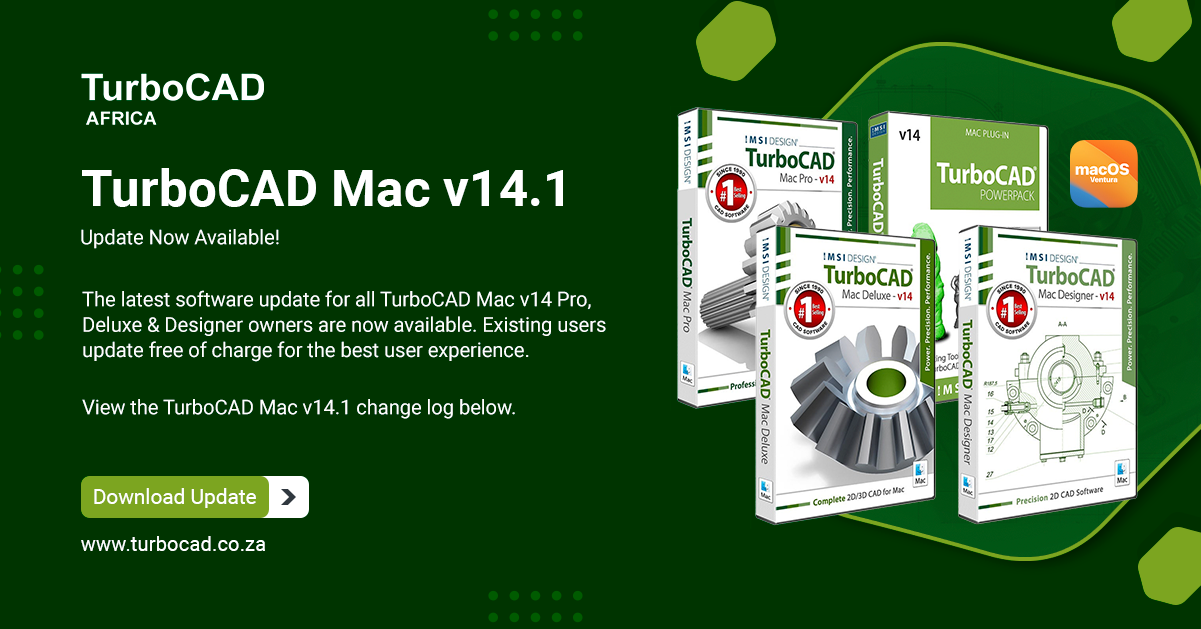 TurboCAD Mac v14.1 Update Now Available!
The latest software update for all TurboCAD Mac v14 Pro, Deluxe & Designer owners are now available. The update offers Drag/Drop function improvements from render library, general performance enhancements, Correction for PowerPack Mesh functions and Corrections for Change Direction and texture previews to enrich and improve your user experience.
Existing users can download the  update free of charge for the best TurboCAD Mac user experience.
TurboCAD Mac v14.1 update for Pro, Deluxe & Designer

TurboCAD Mac v14.1 Change Log:
» Drag/Drop background from render library was not working properly
» Drag/Drop HDR from render library was not working properly
» Expression parser was not recognizing PI
» Printing curves marked as NOOpenGL were not printing
» Updated the closed body check in PowerPack mesh to solid to prevent invalid meshes from passing
» Corrected ionization issue on launch where drawing window was missing
» Y_Up is now saved with OBJ filter settings
» Corrected issue with Navigator UI not now showing after Unhiding
» Rib tool fail correction due to change in ACIS kernel
» Correction for PowerPack AutoMesh Repair and warped quads
» Correction for PowerPack Mesh to Analytic creating two solid meshes instead of one in certain situations
» Another correction for file read corruption corrected
» Batch file correction crash when exporting IGES/STEP and unit setting
» Updated text font sizes for A3 and C Landscape templates
» More updates setting material via Render Manager
» Corrections for Change Direction and Mesh object types
» Corrections for fitting texture preview on Windows for Render Settings dialog
Update Date: 12 April 2023