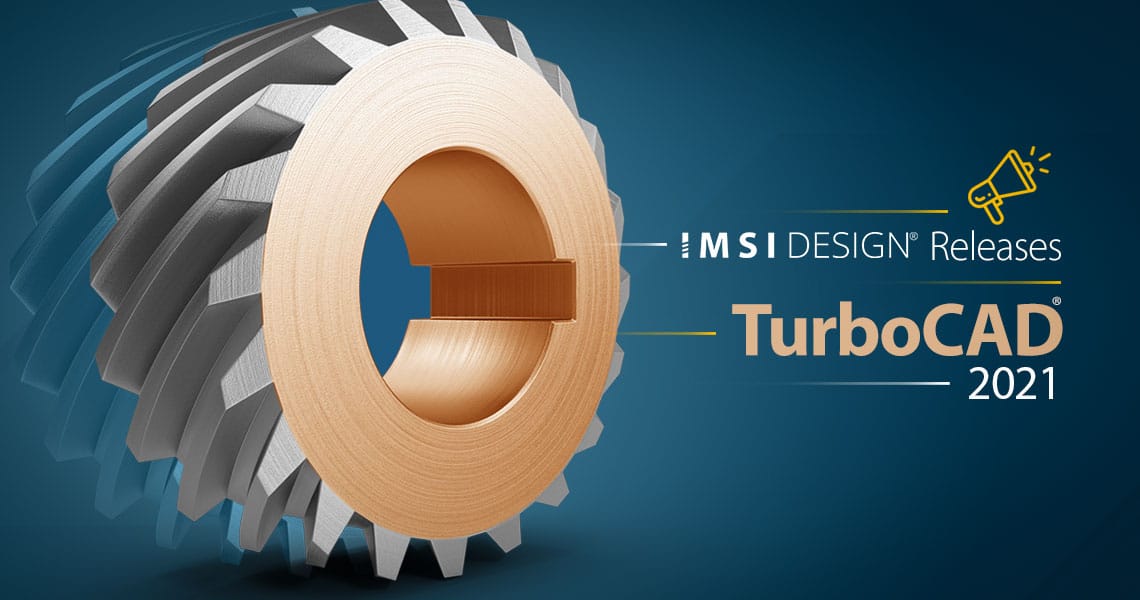 NOVATO, Calif., April 19, 2021 – IMSI® Design, a leading CAD software developer, announced today the release of its TurboCAD 2021 line, including Platinum, Professional, Deluxe and Designer versions for Windows® desktop PCs.
TurboCAD 2021 includes over thirty new and improved features.  "The release of TurboCAD 2021 marks the fourth decade of sales of TurboCAD for Windows," stated Bob Mayer, President of IMSI Design. "We are proud of this milestone and grateful to the millions of users worldwide who have continued to make TurboCAD one of the leading-selling CAD brands in the world."
"The 2021 release continues our commitment to making enhancements in the program which address all areas of importance to our customers:   We are particularly excited about the performance improvements to rendering and to the handling of large CAD files with the integration of the Open Design Alliance's Visualize technology,"  added Mayer.
Professional 2D/3D CAD Software
TurboCAD® 2020 Platinum is a professional 2D Drafting and 3D Solid Modeling CAD Solution for engineers, architects, manufacturers and other design professionals. It comes fully equipped with a powerful drafting palette, ACIS® solid modeling, premium photorealistic rendering, advanced architectural and mechanical tool sets, AutoCAD®-like 2D drafting interface options, and extensive file support.
Comprehensive 2D/3D CAD Software
TurboCAD® 2020 Professional is a comprehensive 2D/3D CAD solution, able to handle most drafting and modeling design needs. Includes hundreds of drawing tools, an optional AutoCAD®-like 2D drafting interface with command line and dynamic input cursor, 3D modeling tools, photorealistic rendering, and extensive file support.
Essential 2D/3D CAD Software
TurboCAD® 2020 Deluxe is the essential 2D Drafting and 3D Modeling solution for individuals, small businesses, students and educators. This software continues to be the best solution on the market for new 2D/3D CAD users and incredible collection of 2D drafting, 3D surface modeling, photorealistic rendering, and support for popular 3D printing and file formats.
Available Now!
Essential 2D CAD Software
TurboCAD® 2020 Designer is the essential 2D Drafting solution for new users of CAD. t's easy-to-use precision 2D CAD software at an entry-level price. Use the setup wizard, tutorials, and context-sensitive help to immediately get productive. Quickly draw, modify, dimension and annotate floorpans, technical illustrations, and any other 2D design you can think of.
Available Now!
Key New and Improved features include:
Usability & Interface
Interactive Start-up Screen – when launching TurboCAD, the new start-up screen displays recently created files and the ability to open/create new files via its Create tab. In addition, from the Start-up you can learn about TurboCAD basics, including the viewing of new feature videos, via the Learn tab, and get access to the latest information about TurboCAD, via the News tab.
Block Enhancements – Include mouse wheel support, block resizing options, and Find block option in the Blocks palette. In addition, Blocks can now be directly edited in the TurboCAD drawing, instead of in the Blocks palette.
Hidden Line Performance Enhancement – A new option "Use Hidden Line Cache" has been added If this is turned on, Paper Space viewport processing (redraw, move, zoom) becomes significantly faster for large drawings
2D Drafting and Editing
Xref Enhancements – Include notification of changes to external files in a TurboCAD drawing and a new Load/Unload feature that can significantly improve TurboCAD's performance…
Leader Dimension Enhancements – For DWG files.
Direct Editing of Blocks – Blocks can now be directly edited in the TurboCAD drawing, instead of via the Blocks Palette. The new Best Fit Circle and Line tools allow the user to draw a circle which is best-fitted through 3 or more defined points, or a line through 2 or more points. Points can be extracted from a specified location or a specific object.
Constraint Animation – Dimension values that drive angles, lengths, and distances within a constraint system can now be animated. Animating these values provides powerful visual feedback to the range of motion issues common in mechanical design problems. The tool extends into 3D motion analysis when the dimension values are part of a 2D constrained sketch that is used to define 3D extruded, sweep, or lathed shapes.  Animating the dimension value automatically updates not only the sketch but the dependent 3D part.
2D Edit Mode – The new 2D Edit mode makes it much easier to design in 2D by turning off 3D objects, editing and modification tools. At a local menu level, only the 2D Selector is enabled, which then works with the selected object's Coordinate System. The 2D Edit mode can be turned off by a simple click.
Drafting Palette Improvements –  Users can now define the Scale of Drafting Object through the local menu Properties of the Object.  In addition, as with Paper Space View Ports, the Drafting Palette now has an Option to select a Layer Set.  The Layer Set can contain both visible and non-visible layers. This enables the user to display only what information is needed in the Drafting Palette Object.
3D Drawing, Modeling, and Editing
Apply to Pattern – A new local menu option "Apply to Pattern" has been added to the Pattern tools. User can now apply solid operations for all pattern elements simultaneously. This option is available for the following 3D editing and can be applied on the pattern objects simultaneously: Fillet Edges, Chamfer Edges, Face offset, Shell Solid.
3D Mapping – Two, 3D mapping tools: Face UV Representation and Surface on Face have been added to TurboCAD. Face UV Representation is used to get a UV representation of the selected ACIS® face as a separate object. Surface on Face is used to get a 3D surface from a selected UV representation, and 2D contour, which lies on the UV representation.
Imprint Tool Improvement – This tool has been improved such that it can use a block insertion that contains set of 2D contours, as a profile for performing the Imprint. This can be useful for creating holes in Sheet Metal designs. Association between the block insertion and the hole is also supported.
Architectural Improvements
Architectural Grid – This new tool makes it easy to align other architectural objects in the drawing, such as walls and columns. Users can also import rectangular grids from DWG drawings and can change the properties of the grid and bubble representation, via the Selection Info palette.
Photorealistic Rendering and Visualization
Visualize – 2D/3D versions of TurboCAD now include the ODA's rendering and lighting technology. Users of Visualize will see greater speed in rendering in Hidden Line and Draft render modes, and Visualize will recognize and import materials from TurboCAD files rendered with LightWorks® or RedSDK renders. Ambient Occlusion, Anti-Aliasing and Lighting are also included.
Multi-Threaded Faceting – Drawings containing ACIS objects can now be rendered more quickly when the multi-threading option is enabled.
File Support / Interoperability
AutoCAD®, SketchUp 2021 Compatibility Improvements – TurboCAD 2020 now fully supports import and export of AutoCAD DWG, DXF and DWF, and SketchUp SKP file formats.
Export Support of Advanced, Mechanical CAD File Formats – TurboCAD 2021 added import supported of these formats and now 2021 builds on this with export support of the leading, professional mechanical CAD products. Including: CATIA, Inventor, NX, Parasolid, ProE, Solid Edge, SolidWorks, and VDA-FS.  A new format has also been added, 3DXML
Progress Meter – A new tool which tracks the import and export progress for certain mechanical CAD formats has been added
Publish to PDF – This new tool streamlines the publishing of PDF files by combining 2D and 3D export filters into a single tool
For a more complete listing and descriptions of all of the new and improved features in TurboCAD 2021, please visit www.turbocad.co.za
New & Improved Features (includes over 667 bug fixes)

Platinum
Professional
Deluxe
Designer
Performance, User Interface and Usability
An interactive Startup Splash Screen
✓
✓
✓
✓
Snaps – highlighting hit graphic
✓
✓
✓
Block palette – resize block previews
✓
✓
✓
✓
Find position of a Command in the UI
✓
✓
✓
✓
Block palette – find Block by Name
✓
✓
✓
✓
2D Drafting and Editing
Viewport hidden line performance using Cache
✓
✓
✓
Leader Dimension Improvements
✓
✓
✓
✓
Load/Unload Xrefs
✓
✓
✓
Direct Editing of Blocks in Drawing
✓
✓
Select By Block Command
✓
3D Modeling and Design
Patterns with Solids
✓
3D Solid and Surface mapping tools
✓
Imprint using Block insertions
✓
Multi-threaded faceting for rendering
✓
Visualization
✓
✓
✓
Rendering and Visualization
Multi-threaded faceting for rendering
✓
Visualize Rendering
✓
✓
✓
Interoperability
AutoCAD® DWG,DXF & SketchUp SKP – 2021 Import/Export Support
✓
✓
✓
✓
Professional Mechanical CAD File Formats
✓
Publish to PDF
✓
✓
✓
STL Import Performance Boost
✓
✓
✓
Architecture Tools
Railing by Path with 2D Arc
✓
Architectural Grid
✓
✓
✓
✓
Contact Details:
TurboCAD Africa
© 2021 IMSI Design, LLC. All rights reserved. IMSI and TurboCAD are registered trademarks and/or trademarks of IMSI Design, LLC. AutoCAD is a registered trademark of Autodesk.  All other identifiable marks are the property of their respective owners.