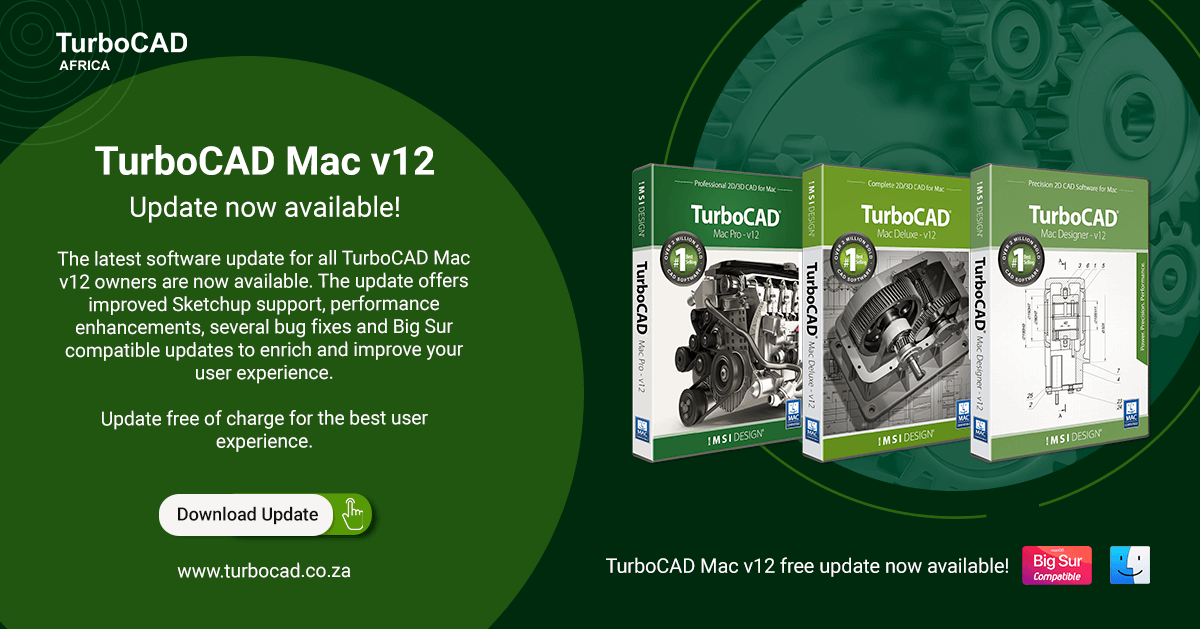 TurboCAD Mac v12 Update Now Available!
The latest software update for all TurboCAD Mac v12 Pro, Deluxe & Designer owners are now available. The update offers improved Skethup support, performance enhancements, several bug fixes and Big Sur compatible updates to enrich and improve your user experience.
Update free of charge for the best user experience.
TurboCAD Mac v12 update for Pro, Deluxe & Designer includes:

TurboCAD Mac v12 Change Log:
» Online Help URL's updated to redirects
» TurboCAD Mac was sometimes turning off associativity
» Cross Hatch Preview dialog now updating correctly on Big Sur
» Transparent polygons were incorrectly getting set to opaque for PDF & DWG import
» Certain OBJ material paths were not getting imported correctly
» Merging two meshes did not correctly merge the texture coordinates
» Corrected crash with rename layer on Big Sur
» BOM correction related to using no decimals
» Improved SketchUp Texture support
» Improved SketchUp 2021 support
» Solid Trim now supports multiple region cutouts
» Inspector was not holding selected line entity on rubber band line create
» Memory leak with pictures/images
» Main tool palette view options were not updating for Big Sur (wireframe, shading, hidden line)
» Corrected issue where draw view was not getting updated with view change
» Corrected sub view tool options not getting displays on Big Sur
Date: 21 May 2021